Saige loves school. To say that she enjoys going is an understatement. She loves her teacher and makes stuff for Ms. Dawn all the time- but sometimes we need to limit the things we take to her. For thanksgiving they had a pie program. Saige was so excited to have us come to hear her new songs. We were just as excited.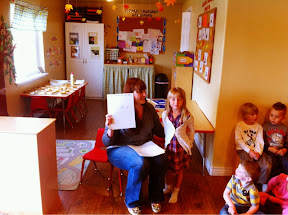 Together with Ms. Dawn they shared with us what they are thankful for, Saige's was Bull our dog. She does love that hairy beast.
They then sang a few songs and Saige was quite excited to do so.
Afterwards they served us pie
And then we all enjoyed our pie!
Thanks Ms. Dawn for the yummy pie and the great program!