Have you been checking out Gygi's blog? I can say that it's getting pretty darn good, cause it's not me doing it anymore and our cute friend Cait has taken over and doing a mighty fine job. So go check it out- www.gygi.com/blog and maybe even enter in one of the contests! A $20 gift card is always a good thing to win. Anyways- last week Cait featured a post about homemade churros that we did for LDS living. So with our tanned skin, blonde hair and summer clothes we made churros.
This recipe is actually one we make quite a bit. It's super easy and everyone loves deep fried sugar and cinnamon goodness, right? So here is the how to:
Batter Recipe:
2 cups Water
5 Tablespoons sugar
1 teaspoon salt
4 Tablespoon Vegetable Oil
2 cups all-purpose flour
2 quarts oil for frying
For Coating:
1 cup sugar and 2 teaspoons ground cinnamon, mixed together
Paper bag
In a heavy sauce pan mix your water, sugar, salt and oil and stir on medium heat until sugar is dissolved and mixture boils.
After mixture boils, pour into your mixer, or use a heavy wooden spoon and constantly mix batter together while adding the flour. This will be a big arm workout if you don't have a mixer!!! Mix until everything is combined and it starts to pull together.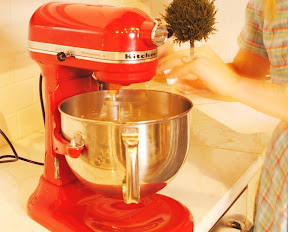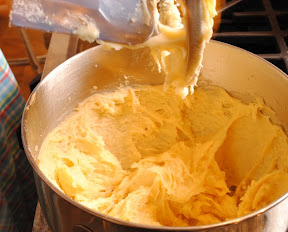 About like that. ( I wish Matt was around to take pictures of everything we made- I might get more recipes up here! Thanks Matt. )
Now this is where patience comes in. Patience is something I don't have a lot of. I burn my mouth eating that first bite of soup, I regret biting into those green beans that I just had sizzling on the pan and just had to try and this recipe tests my patience. After the batter is done mixing it's hot. Really hot. And the next step you have to put it onto a pastry bag with a large star tip (Wilton 8b) and fill it with the batter.
After its in there you want to pipe it out but the BATTER IS SO STINKIN HOT!!!! But for some reason I cannot wait to pipe it!! It burns my hands, I even wrapped the bag with a towel hoping to cool it down. So my advice: let it cool down a bit before piping it out!!!
Here you have two choices on how to cook them. The first attempt of cooking churros I followed the recipe exactly, and pipes each churro into the pan of hot oil. Burned my already burned hands, and spent a lot of time over that pot of oil. But if you are trying to get these done fast than this is the quickest way to get them cooked. But if you plan ahead you can pipe them on a parchment lined cookie sheet, where you can make sure they are all the same length and then once the tray is full throw it in the freezer!!
I leave them in for about 20-30 minutes, or until they are easy to pick up off the tray.
Meanwhile, pour some canola oil into a shallow but wide pan- a sauté pan is perfect for this, that way you don't have to fill up a large stock pot and can make some good sized churros.
Clip on a candy thermometer and watch the heat till it gets to 375 degrees. This is where it gets hot a tricky! You want to watch the oil as to make sure it doesn't get too hot or cold. The churros, since they are frozen will cool the oil down so just watch and adjust the heat so they get cooked right.
You can use a pair of tongs or just carefully drop in but place in the oil until lightly browned. After thoroughly cooked place on a cooling rack and let cool slightly. All while mixing the remaining cinnamon and sugar together in a paper bag and shake it up. Place churros inside bag and fold down top and shake away !!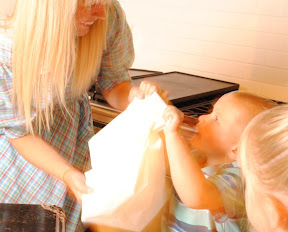 Take out of bag and enjoy!
Have fun with this. I promised my friend Lauren I will start posting more recipes so maybe this is the beginning. I'm sure there will be lots more sweet/baking recipes than cooking but what fun is no sweets.
And if you want some really good candy making recipes, check out this month's LDS living, I wrote an article on some fun recipes- marshmallows, salted caramel and lots more.