I have never considered myself a girly girl. I guess out of some of my sisters yes, but never one to love ruffles, make-up, spa days, or fancy dresses. I have always had a pretty good imagination and grew up doing plays, dances, radio programs, newspapers, and all sort of odd things-mostly with my even more imaginative cousin Amy. But has really always liked football, basketball, don't mind getting dirty and sometimes not shaving my legs- that's for a whole other day and post. Haha.
So when having our Saige- I imagined a girl with the sweetest imagination, not afraid to be who she is, maybe a bit of a free spirit like her parents, but definitely not a girl who thought she was a princess. (I even said once to my sisters- "if any of you buy her those princess things or ever call her princess you are busted!") Well in true Saige fashion- she shocked me, she really did become a free spirit, very imaginative and is the girliest girl who loves dresses, princesses, and just about everything pink.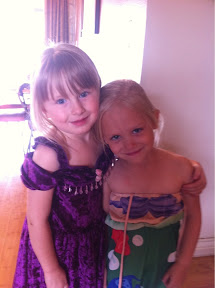 And I will be honest at first it bothered me. I don't understand the reason why we have to wear pink somewhere each day, or the breakdowns when we show up to school and she didn't wear a dress, and how no matter how cute we dress her each day-her dress-ups show back on and she has become princess Annaleise. But as she grows and I realize it really is who she is- I love it.
She loves to pretend and her dream world carries over quite a bit- sometimes she asks me if something is on our world or just for pretend. I hope that creative spirit lasts forever.
Today she was the nail polish girl that gives free nail paintings but charges $22 for one of the purple flowers.
She loves patterns and sparkles and will put plenty of them on your toes and fingers if you let her.
She takes lots of breaks cause she wants to change things on her own hands and feet, but we look at it like staying on top of the trend.
Come over anytime. I only allow my toenails to be painted twice a week so she is always looking for a new victim, I mean client.
And there is no discriminating here- without upsetting Gramps too much- Milo's are often painted but then quickly taken off so Gramps won't get mad at her. So boys you are welcome too.