Labor Day should always be called Fun Day. While it's a day focused on celebrating those in America who work hard and help make the country grow, we
always seem to have a pretty rocking time. Today was no exception.
What celebration is complete without starting the night before and partying all night long!
Our great brother Jon has this projector. So we borrowed it, hung a big blanket up in the backyard, and turned on Despicable Me (one of our favorites!). It was so much fun!!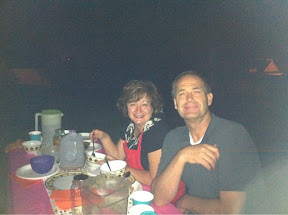 Mimi made some of her yummy grilled cheese sandwiches and we had raspberries and peaches and Connie's yummy punch!
After we all filled our bellies we laid on the blankets, cuddled up and enjoyed the movie.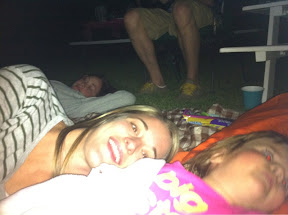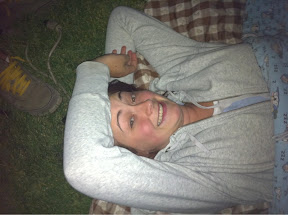 Milo and Ella would not hold still so this is the best picture of the night. After popcorn, treats and a fun movie we called it a night. But our crew of friends that were going to sleep out with us was slowly getting smaller and smaller. So it ended up being Staci, Saige, Milo and Me.
We bundled up, grabbed the tarps and laid down for the night. It was a lot of fun. And I actually didn't freeze and had a great time!!
But before we could sleep we had to make our scariest faces!!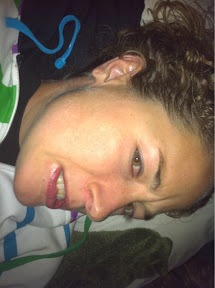 Staci scared....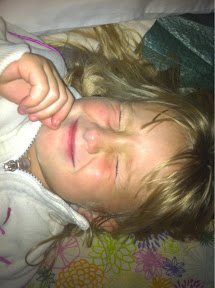 Saige happy....
Milo sad....
And Me silly. (I think it's hard to tell the difference between them all!!)
Good night!! We missed you all that decided to ditch out.... Connie Katie!
(morning hair, its lovely having bangs!!)
Now the whole purpose of the sleepover was so that we could go to the neighborhood labor day breakfast at my parents church. They have been doing this breakfast for as long as I can remember and it was fun to see some old faces and realize that I don't know anyone anymore in that ward.
After some face paint and the lovely kids parade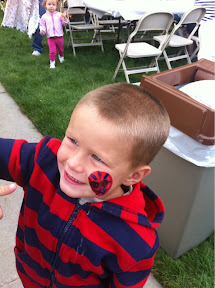 We had yummy pancakes, eggs and hashbrowns, thanks to all the chefs!!
Lots of fun and food! We loved having Katie, Connie and Ty come down and spend the weekend with us!
Milo and Mimi on the same bike!
Lots of fun. Bike rides. Tractor rides. Yummy food. And of course family. We had a great day!