Now now, before you start to think, geez this girl cannot even pass preschool?!?! Our lovely Saige is so fortunate to be born September 3rd. Two days after the deadline for kindergarten. For a while I was quite bummed. I mean this girl has always been pretty mature for her age, her bestest friends are all going to kindergarten and she is going to be going to preschool for THREE YEARS!! I started realizing this will be a good thing though. Her and Milo will only be a year apart, she will be the oldest in her grade and she will be able to be the boss of everyone (her ultimate dream!!).
So that is why we are starting our 3rd year of preschool.
Saige was more than thrilled to be going to Miss Dawn. They hit it off on the first meeting and she couldn't wait to leave this morning.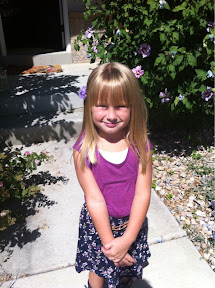 She picked out her own outfit, blew dried her own hair and even reminded me (every minute) that school starts at 12:30. She is getting so big and I love her independence.
Don't mind Milo's head !!
Here we are going to Miss Dawn's.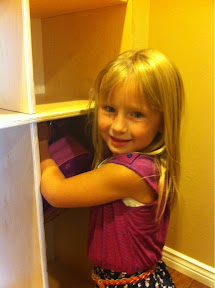 She was sooo excited to have a special place for her backpack.
Coloring in her daily journal. So excited to see what she thinks up everyday!!
We love school!!!