As I was looking over somehow I forgot to post some of these. Since there is no snow on the ground I thought it was appropriate to still share fall themed photos.
Our family visits the same pumpkin patch every year. Our cousins live right across the street and told us about the Family that own the patch. For some reason when you know the reason for the patch-it makes you want to help them out even more.
This particular family have kids that play the bagpipes and started this patch to help pay for the expensive musical dreams of their kids. We are all about supporting the arts.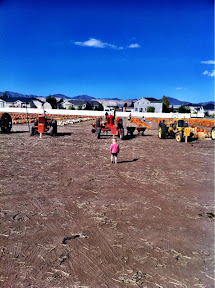 Candace, Grant and Jos were in town, which we love so we came to party.
This farm, right by the district- has the best tractors out front, a small corn maze and amazing pumpkins. The kids love the tractors and small wheel barrows to push the pumpkins in.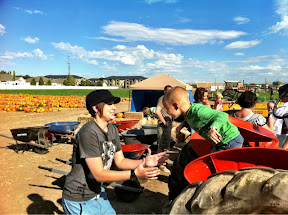 Staci joined us, which made Milo more than thrilled!
And sometimes they push people, poor Jilly that's a big load.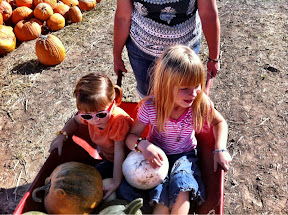 Mimi, Ella, and Saige looked for pumpkins for Mimi, somehow she finds some odd shapes and great decorative pumpkins.
This sweet Ella girl says the funniest things. As Mimi was pushing her around she started screaming, "There is FedEx!!!" and the FedEx truck drove by. We all thought it was hilarious that a two year old can pick out a FedEx truck.
I guess Jon gets packages sent there everyday so she gets excited to see the truck come. Haha
We love our Lucy girl. Honestly dont know what we would do without her.
After picking pumpkins we headed thru the corn maze. Good thing we had Mimi, it was pretty scary!! Hehe
Josie wanted to stop and eat the corn. Funny kid.
Phew. We made it out!!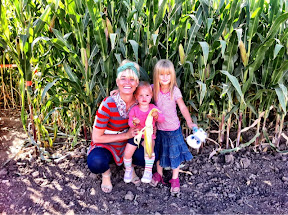 Josie may have tried eating this corn.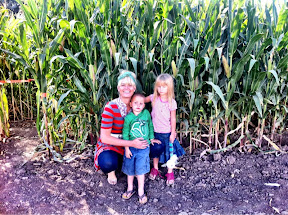 We love fall!!
Thanks family for a great day!!