I've said it a million times, but Holidays are a big deal at our house. We drive Matt nuts most the time, but he loves it.
It is my mother's fault and I love that she taught us to have a good time. Halloween is no exception. This year we went over before and celebrated on Sunday as a family.
I have THE BEST SISTERS. Oh I'm not kidding. They are amazing. They help me out so much and make me such a great person. Connie was in town and helped us carve our pumpkins.
Milo loves the gunk inside. Such a boy. Isn't he handsome?
I may have helped a little with the carving.
Ms Saige didn't want to get yucky so she chose to paint and glitterfy her pumpkin.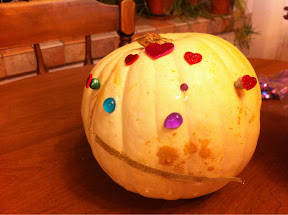 Thanks Mimi for letting us come
make a mess and carve our pumpkins.
My mom's tradition for Halloween is dinner in a pumpkin. It's nothing fancy but it's not Halloween without it -candace who is in Kentucky even carried on the dinner in a pumpkin tradition at her home.
Aren't they cute? They taste yummy too.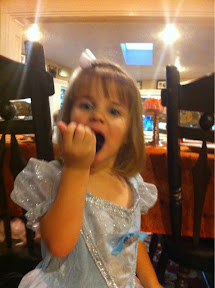 Ms. Ella joined the party and played with me for a bit. Man I can get some funny faces from her!
Love this girl. Will pose for any picture and loves to be dressed up. She would love having halloween everyday!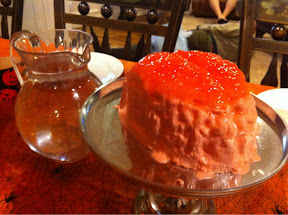 My mom's brain jello. Yummy.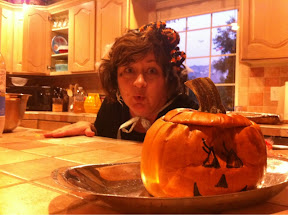 Scary witch Mimi and her dinner in a pumpkin.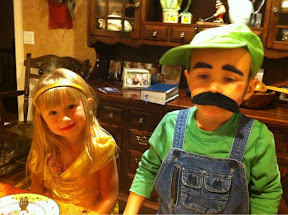 Belle and Luigi. We may have super glued his mustache on. Hehe.
After dinner, cute Mimi put together some fun games for the kids. Isn't she great.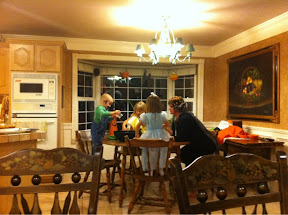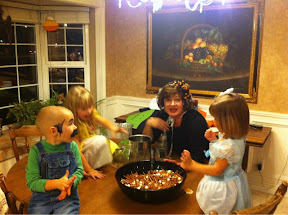 What party would be complete without an up close photo:
Thanks Mimi for a fun Halloween party.