Our family isn't quite use to Priesthood night. Yes our Dad has ALWAYS gone but he would come home right after and we enjoyed root beer floats. But now most of us have husbands that go out, enjoy the priesthood session and go out for traditional sushi afterwards. So while the boys enjoy the night we party together!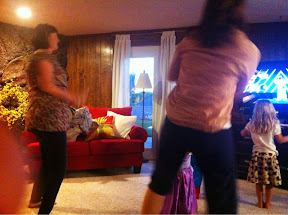 And by party we mean Chinese food and some dancing on the Wii. Our kids love it and I would be lying if I said I didn't like it as well. I'm a terrible dancer but love the slight competitiveness and of course being able to shake my groove thang. Haha
Just don't tell Milo that the remote is not a controller. He loves it and won't use anything else.
Thank heavens Bonnie, staci, and Connie were just as excited as we were to dance cause we danced the night away!
Sweet baby Asher was a little worried why he would be left with all these crazy girls but Mimi made him feel like it would be okay.
If I could figure out how to get my Videos up here I would show you some scary dance moves. Until then you will just have to dream.