For family night, Matt's mom Lisa wanted to make caramel apples.
Sidenote- I think I won Scott (Matt's Dad) over when we were dating, I brought over caramel apples and Lisa said "Ohhh Scott loves these!!" He got a huge smile and I knew it made him excited. So when Lisa asked if I would teach her how to do it, I knew Scott had to come.
We invited the Smith crew over to Gygi's (Shan we missed you, sorry Hyde was sick), plopped some caramel in the ovens and had a party. And let's be honest- anything with caramel is a party.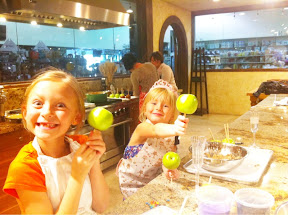 Saige and Abby were the best helpers and very patient to wait for the adults to do theirs. I love their imaginations and how much they love to be together!
After brief demonstration and some instruction everyone dipped away and hopefully had a great time!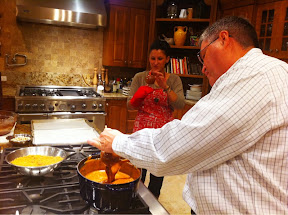 There he is the man of the hour, I think Matt was a bit of a distraction, but he did great!
After the caramel comes the chocolate and of course all the goodies. This is my favorite part, I love seeing everyone's creativity.
Oreo, butterfingers, m&m's, toasted coconut, peanut butter cups, almonds and on and on and on. It was yummy.
Aunt Pete showing off her dipping skills while on the phone- that's talent people.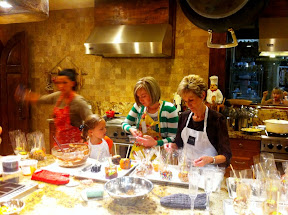 All done and packing them up. I was so impressed with everyone, and think we need to do this more often!! Guys are you up for that?
We all know Milo is!
Thanks for this great Family Night Lisa. We all had a great time, and love being with our great family. How lucky we are to live so close together and be able to do things like this. Love you all.
And if you want to do this, check out this
link
where Brittany and I will give you some tip-eroos.