There are many things that we look forward to- trips to St. George, seeing our loved ones, sushi nights as a family and one big one is conference Sunday. Twice a year we get to enjoy Sunday's at home, in our jammies, and listen to the sweet words of our prophet and leaders.
Our kids are to a really good age that bribing works wonders and we can actually hear quite a bit of what is being said-while my favorite is always the Ensign Conference edition (sometimes reading it means so much more).
So after lots of pipe cleaner, crayons, notebooks and stickers we enjoyed ourselves a great little Sunday.
A little bit of make-up and a hair brush kept kids entertained for many talks.
And the kids most favorite was delivering cinnamon rolls to some
of our favorite people.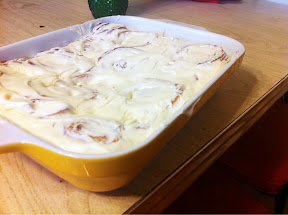 The opportunity to listen to these wonderful speakers gives me such hope. It comes at the most needed times in life and gives me that extra push needed to continue on. I hate to see it end but am grateful for it to come again in April.