June 18th could not come soon enough. Brandi Carlile and Ray Lamontagne came in concert together and we were lucky enough to get some tickets before they were sold out!! After a long week of getting ready for the Grilling Gala we had at Gygi's, it was just what I needed to make the perfect ending for a long day.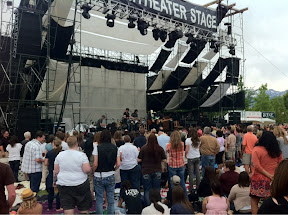 Candace and Connie were kind enough to head over early and save our spots. Although they were getting daggers from EVERYONE because 5 of them were saving 4 blankets worth of space! We got there just as Brandi was starting and it was so much fun. If you haven't listened to Brandi before I highly recommend her.
My sisters are all huge fans and I have listened before but there is just something about hearing them live that makes you realize how good they are. Staci described her once to me as a female Johnny Cash. And her versions of his songs yesterday were perfect.
We got together with some of our most favorite people, and danced the night away. Ray was worth all the wait and I wanted the night to go on forever. He has such an amazing voice, which made me wish I could sing just a little!!(my dear sisters quickly reminded me that yes I cannot sing at all!)
There is nothing better than being with your sisters to celebrate the night. They both have a way to help me relax, have a good time and put all my cares away!!
Matt had always been a huge fan, and has gotten our kids to love his songs. They requested them by name and I even catch them singing the songs through out the day. I would have loved to have them there but it was also great to just have my hubby by my side without kids pulling at us!
It was a great kick off to a hopefully exciting summer! Thanks Ray for your sexy voice and heartfelt lyrics. You truly are amazing and one of a kind. We love you!!