Saturday with our Bountiful Basket we got a flat of Strawberries. I was hoping for not so ripe so we could slowly eat them on our cereal and enjoy but they were the most delicious red and sweetest things. After looking at them FRUIT LEATHER was calling my name. (Have you ever made fruit leather? I was fortunate to buy Matt a food dehydrator for his birthday one year, but I have used it WAY more. We will do a post on that later...)
But they sat in my fridge and I just didn't get to it! So our sweet friends Macie and Jocelyn came over to play and we decided to dip them instead. What a better activity than fruit and chocolate!?!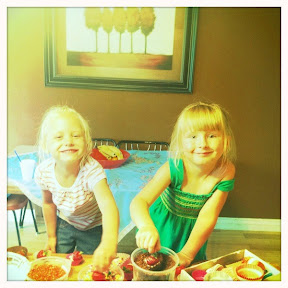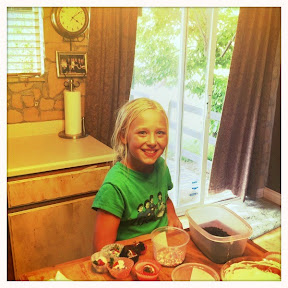 These girls are serious pros. We carefully melted the chocolate ad they let their creativity run wild!!
Each girl ended up with about 4 plates of chocolate dipped strawberries and bananas. And a little bit of a sugar rush. Thanks for coming over girls!!