During this very very short time of year, the mountains just scream Matt's name. It's now hunting season, and his trip to Montana cannot come soon enough for him. Until then he gets his outdoor fix by visiting the mountains. Luckily he asked us to join him.
It was such a beautiful day, perfect weather and the leaves were gorgeous. Unfortunately everyone else thought so, and we saw way too many family pictures being taken. Although the most interesting was the lady who was driving in front of us, swerving off the road as she tried to take photos while she was driving!! (true story)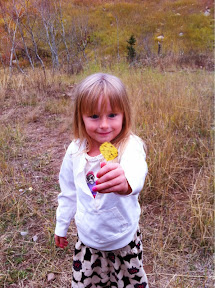 Saige is such a spitting image of her daddy, and has so many of the same interests he does- I think she also just likes to be around her Dad.
Milo and I sat in the warm truck, as the sun went down, and sang songs. We are both really good singers and complement each other's singing nicely. Hehe
Thanks Matt for the fun family outing! We loved it!